Transportation
How to reach the venue
From Vaclav Havel Airport Prague: Take the bus number 119 to Nadrazi Veleslavin Station. There you can change for the metro (in direction to Depo Hostivar) to Staromestska station where the venue is.
From Prague Main Railway Station: Take the metro to Muzem Station (red line, in direction to Haje) – it is only one stop. In Muzeum Station, please change for the green line to Staromestska Station (green line, in direction to Nemocnice Motol).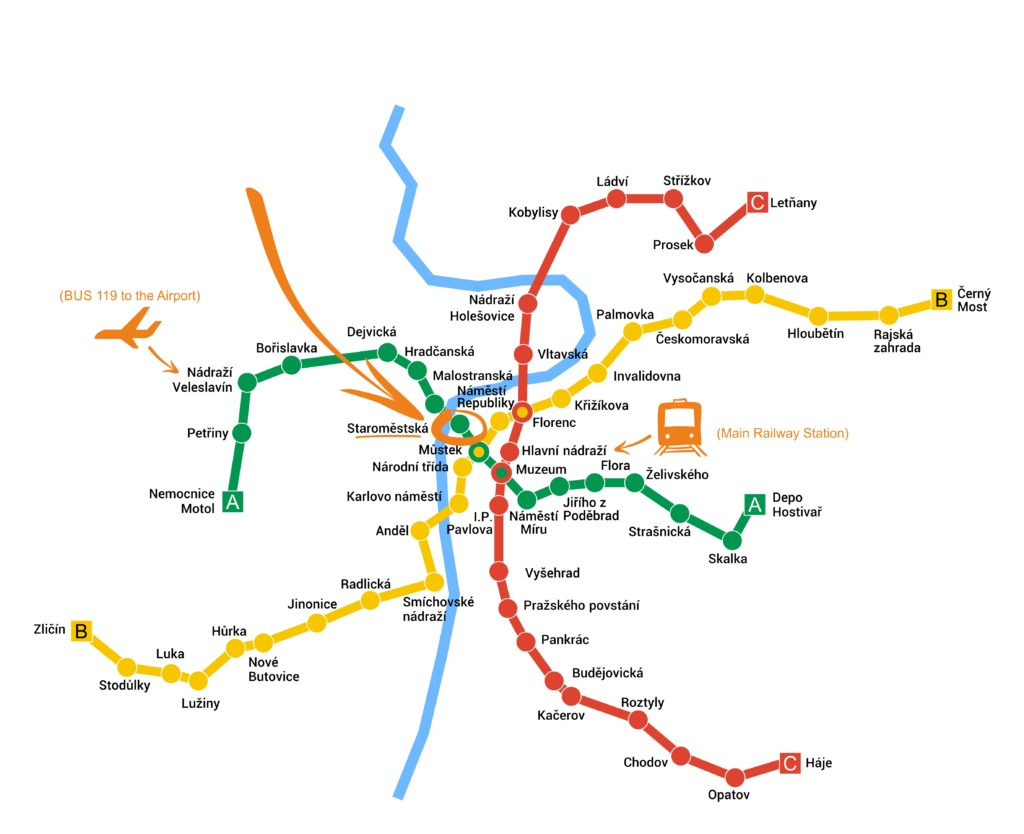 Underground / Metro
The Metro operates daily from 05:00 to 24:00. The Faculty of Arts is located right next to the exit to Staromestska Metro Station (green line A).
The Metro network consists of 3 lines:
A – green colour, B – yellow colour, C – red colour
Trams and Buses
Trams and buses operate 24 hours a day.
Night trams and buses operate from 00:30 – 4:30 with traffic intervals of approximately 30 minutes.
For more information, please, visit the website of the Prague Public Transport Company.
ATM
Two ATMs (Komercni banka and Ceska sporitelna) are located at the exit of the metro station Staromestka (from Kaprova Street).
Currency
Currency of the Czech Republic is the Czech Crown (CZK). However, Euro is accepted in many restaurants, hotels and shops. Payment with credit card is always a solution. Exchange rates are approximately 23 CZK/EUR and 21 CZK/USD.
Insurance
We strongly recommend participants to carry a travel and health insurance. Such an insurance is not included in the registration fee.
Time
Czech time is GMT +1 hour, in summer GMT + 2 (summer time).
Information about Prague
For more information about Prague or the Czech Republic, please, visit these websites:
www.prague.cz
www.prague-czechrepublic.com
www.czechtourism.com
www.praguemorning.cz
www.czech.cz/en/Home-en
Electricity
The voltage is 220 V with frequency of 50 KHz.
Czech plug:
Emergency numbers
General Emergency: 112
Fire Department: 150
Medical Services: 155
Police: 158
Taxi
It is very easy to get a Taxi in the city center. However we recommend you to use hotel taxis or obtain taxis by phone through the taxi services:
AAA: + 420 14 014
City taxi: + 420 257 257 257
Nejlevnejsi taxi: + 420 226 000 226
Boarding charge is approximately 30 CZK. Please be careful to fraudulent taxi services and always ask in advance about the boarding charge.